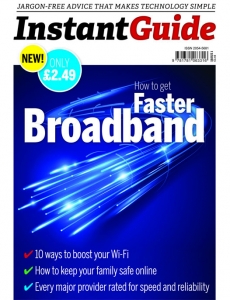 Dennis Publishing, the UK's largest technology publisher, is launching a new series of monthly magazines, The Instant Guide.  The series is aimed at consumers looking for jargon-free, step-by-step guides to getting the most out of their everyday gadgets and software.
Drawing upon the expert knowledge Dennis Publishing's technology writers from Computer Active, PC Pro and Web User, The Instant Guide series is set to fill a gap in the market for readers who want to get more from the technology they use.
"These guides are about everyday technology, technology that most people have but may not be making the most of," said Priti Patel, Managing Editor. "By avoiding jargon and concentrating on practical advice, we hope these guides will make a real difference to people's lives."
The jargon-free guides provide readers with all they need to know about a given topic, offering invaluable advice that they cannot get elsewhere in a simple and concise format.
"We've launched The Instant Guide series as there is a real hunger from readers to have a simple, easy to understand guide to topics they can keep on their shelves and refer to when the need arises," said Patel.
The first of the series, which hits the shelves on 22nd January 2014, will retail at £2.49. The 76-page magazine, Instant Guide to Broadband, covers how to choose a new broadband supplier, including the differences between all the services (such as fibre, cable and ADSL); how to improve your wireless signal; plus how to secure your family, your network and your mobile devices.
Instant Guides will be published monthly, with a print-run of 40,000 copies. Future issues will cover topics such as Create your own website; Take better pictures; How to buy the perfect laptop; Microsoft Word; Back up your PC, tablet & phone – and many more.