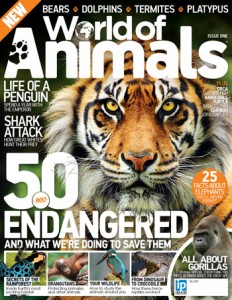 On 28 November 2013 Imagine Publishing will launch World Of Animals, a totally new wildlife magazine set to transform the global print and digital newsstand.
Following the record-breaking success of How It Works and All About Space, and hot on the heels of All About History's stunning June 2013 launch, World Of Animals will be the most spectacular and appealing wildlife magazine ever made, providing an engaging alternative for both UK and worldwide readers.
"We can't wait to show the millions of animal lovers worldwide what they've been missing" said Aaron Asadi, Head Of Publishing. "With All About History, Imagine has shown again that it is in a league of its own when it comes to the Knowledge/Science category and World Of Animals will cement that reputation as industry leader."
With its combination of premium wildlife photography, detailed illustrations, accessible articles and incredible stories, World Of Animals will offer readers wildlife content that is rich and diverse, covering animals from all corners of the globe.
For the full story click Imagine