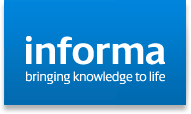 In a press release Informa today announced an update on its Portfolio Management programme as part of the 2014-2017 Growth Acceleration Plan, including:
1. The announcement today of the sale of the Consumer Information Businesses, part of Business Intelligence.
2. Disposal of the non-core InsuranceIQ business, formerly part of Informa Investment Solutions within the Business Intelligence Division;
3. Completion of the transfer of the Medical Journals business from the Business Intelligence Division to Academic Publishing;
4. The decision to explore strategic options for the European Conference Business within the Knowledge & Networking Division.