Press release: London: Informa (LSE: INF.L), ("Informa"), the international Business Intelligence, Exhibitions, Events and Academic Publishing Group, has reached agreement with MidOcean Partners and Wasserstein & Co to acquire the entire issued and outstanding capital stock of Penton, the leading independent US-based Exhibitions and Professional Information Services group for £1,180m.
The Acquisition will be funded through a combination of new debt and equity, including a fully underwritten rights issue of one Rights Issue Shares at 441 pence each for every four Existing Informa Shares to raise £715m. The Sellers (which include certain senior management alongside MidOcean Partners and Wasserstein & Co) will receive £1,105m consideration in cash and £76m in new Informa equity with a holding period of up to one year.
The Board of Directors of Informa believes the combination of Informa with Penton is commercially and financially compelling, with a strong portfolio fit that will significantly strengthen our Global Exhibitions and Business Intelligence Divisions, enhance our position in attractive verticals and increase our scale in the US, further improving long-term growth prospects.
Building on Informa's recent growth and expansion in Exhibitions and targeted rationalisation of its legacy conference portfolio, the combination will create one of the world's largest owner/operators of Exhibitions, Events and Conferences.
Penton's fast growing portfolio of around 30 Exhibitions includes leading brands in Natural Products & Food (Natural Products Expo), Agriculture (Farm Progress), TMT (IWCE), Infrastructure (WasteExpo) and Transportation (MRO Event Portfolio).
Additionally, Penton brings more than 20 attractive digital subscription data Brands in verticals including Infrastructure (Equipment Watch), Transportation (Aviation Week Intelligence Network) and Design & Manufacturing (SourceESB), and a portfolio of 100+ print and digital B2B insight products that complement and extend our portfolio of more than 100 digital subscription products within Business Intelligence.
Penton also adds significant and proven capability in areas such as Event Services, multi-channel B2B Media Brands, Digital Communities, B2B Content Marketing and other B2B Marketing Solutions, strengthening our offering in these areas and opening up new opportunities for growth.
The Acquisition forms part of the ongoing 2014-2017 Growth Acceleration Plan ("GAP"), and will strengthen the revenue and operating profit contribution of the Group's Global Exhibitions and Business Intelligence Divisions, complementing the continued growth opportunities in Academic Publishing and Knowledge and Networking.
On completion, the enlarged Informa Group will have a significant presence across the US, accounting for 47% of annual pro-forma revenues.
KEY TRANSACTION TERMS
Under the terms of the Merger Agreement, Informa has agreed to acquire Penton from the Sellers for a total net consideration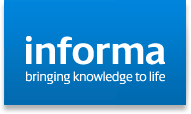 of £1,180m ($1,558m), subject to customary adjustments, comprising:
Part 1: Cash consideration of £1,105m, to be funded through a combination of debt and equity, including a fully underwritten Rights Issue of £715m;
Part 2: Equity consideration of £76m with a holding period of up to one year (subject to certain exceptions). Within this, £6m is to be paid to the management of Penton who own shares in the New York-based Group.
It is intended that the entire net proceeds of the Rights Issue will be used towards funding the Acquisition. Pro-forma for the Acquisition, the Informa Board believes that leverage will be approximately 2.6 times net debt to EBITDA as at 31 December 2016 (calculated in line with banking covenants).
For the full press release click here  and for comment in the Times click here