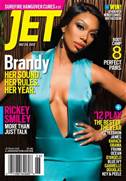 Jet, the magazine once described as "the Bible" for African-American readers, is closing its print edition in June and will transition to a digital-only publication, parent company Johnson Publishing said Wednesday.
The digest-sized magazine, a former weekly that more recently published every three weeks, will put out an annual best of Jet issue, the company said.
Jet was first published in 1951.
For the full story read Ad Age