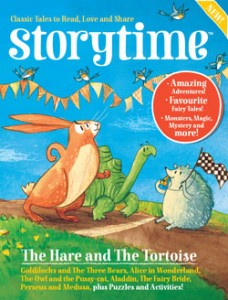 According to Luma Works, Storytime is a 52-page magazine packed with a captivating mix of fairy tales, folk tales, fables, myths, legends, poetry and extracts from well-loved children's books – all beautifully illustrated to engage parents and children in the magical world of stories.
The first issue will include Goldilocks and the Three Bears, The Hare and the Tortoise, Aladdin, The Owl and the Pussy-cat, Perseus and Medusa, The Fairy Bride, and Alice in Wonderland, plus story-inspired puzzles, colouring and games, and top tips from an education consultant.
Storytime magazine will be on sale monthly, priced at £3.99. In addition to UK distribution, it will also be available in the US through Barnes & Noble and Books-A-Million, and also in Australia. A digital version will be available through iTunes.
For the full story read In Publishing and Luma Works