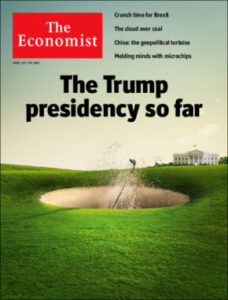 The Economist is following the trend of Trump-era subscription success, with a growth of 19 percent in North American digital subscriptions since the election. This puts the London-based magazine in the ranks of Vanity Fair, The New York Times, and The Atlantic, which have all seen subscriptions surge since November.
Unlike Vanity Fair and The New York Times, there hasn't been any public tension between The Economist and the president of the United States, though the globalist magazine did endorse Clinton, and has run six semi-provocative Trump covers since the election.
Nonetheless, The Economist attributes its successful subscription drive to the news-hungry environment that has developed since November 8, and adept marketing which seized the moment.