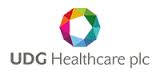 UDG Healthcare plc, a leading international provider of healthcare services, announces that it has acquired the specialist healthcare and scientific public relations (PR) businesses, Galliard and Nyxeon (MFRHRC Holdings Limited).
MFRHRC Holdings Limited is being acquired for £6.5 million net cash on completion with an additional £6.5 million of the consideration payable based on achievement of agreed profit targets over the next 3 years. It is estimated that the value of the gross assets being acquired will be
£5.0 million. These assets generated annual revenues of £5.57 million and a profit after tax of £1.73 million in the year to December 2013.
The acquisition is expected to be immediately earnings enhancing.
Transaction highlights:
· Galliard and Nyxeon add capabilities in data driven healthcare and scientific public relations to UDG Healthcare's market leading, global healthcare communications business Ashfield Healthcare Communications.
· The businesses complement the existing services delivered by Ashfield Healthcare Communications adding both scale and depth to core healthcare communications services, in addition to specialist expertise in scientific PR.
Galliard / Nyxeon:
· Established in 2000, Galliard is an award-winning agency with deep experience in the communication of science to healthcare professionals, caregivers, policy makers and consumers.
· Galliard and Nyxeon are both headquartered in London and employ 33 people who provide services to global pharmaceutical companies, healthcare-related organisations and charities.
· The specialist PR services offered by the agencies include; media relations, issues management, scientific & medical education, corporate and employee communications.
Commenting on the announcement, Liam FitzGerald, Chief Executive of UDG Healthcare plc said:
"We are delighted to announce the acquisition of Galliard and Nyxeon which add strong scientific public relations capabilities to the services we already deliver to our clients. This purchase is fully aligned with our global growth strategy of extending the range of services we offer in high value multichannel healthcare communications and follows the successful acquisitions of InforMed, Watermeadow and more recently Knowledgepoint360."
Galliard's Linked in page here