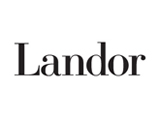 WPP announces that Landor, a leading strategic brand consulting and design firm, has acquired a majority stake in multi award-winning motion design studio ManvsMachine.
ManvsMachine is based in London and has worked on a range of global campaigns for clients that include Nike, Microsoft, Honda and Audi, as well as identity campaigns for broadcasters such as Channel 4, Discovery, NBC Universal and ITV2.
The acquisition is part of an ongoing strategy at Landor to broaden its creative capabilities, in this instance in screen-based and multi-channel branding.
ManvsMachine's unaudited revenue for the year ended 31 May 2015 was £3.4 million, with gross assets of £1.9 million as at the same date.
This acquisition continues WPP's strategy of developing its services in fast-growing and important sectors and markets. Landor is part of WPP's Branding & Identity, Healthcare and Specialist Communications group (which includes Direct and Digital). Collectively, including associates and investments, the companies in this group generate revenues of US$6 billion and employ over 70,000 people worldwide.