Bonnier Corporation announced today the purchase of Cycle World magazine from Hearst Corporation. Financial terms were not disclosed.
Cycle World — the No. 1 media brand in the motorcycle industry — joins Bonnier's impressive collection of top brands in the U.S. that include Popular Science, Parenting, Field & Stream and a number of special-interest active lifestyle titles.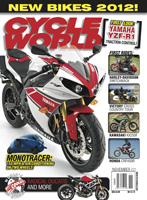 Bonnier, which formed in 2007, has grown to more than 50 brands, mainly through acquisitions. The company has also become an industry pioneer for its approach to emerging digital platforms. Bonnier was one of the first to launch a magazine title on the iPad with Popular Science in April 2010, and has followed that up with aggressive R&D innovations.
Founded in 1962 and based in Newport Beach, Calif., Cycle World publishes a monthly magazine with a circulation of 235,000. In addition to the print publication, the brand has a robust website, events, licensed content, research initiatives and mobile apps. It was the first motorcycle brand to publish a mobile app with the launch of the Cycle World iPhone app in 2009.
Cycle World will be moved under Vice President and Group Publisher Eric Zinczenko's Outdoor Group.Cycle World's current staff will remain. Mark Hoyer leads the editorial team as vice president of brand content and editor in chief of Cycle World. Hoyer has worked for the brand since 1999. Andrew Leisner leads the business side as vice president of integrated sales and marketing. A former professional motorcycle racer, Leisner has worked his entire career in motorcycling with a wide range of responsibilities, including publishing, advertising, sponsorship sales and promotions.
For the full story click Bonnier