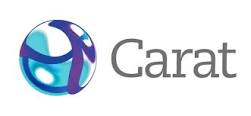 In the first update so far this year from a major agency holding company, Dentsu Aegis' Carat unit has upgraded its outlook for the global ad economy, boosting its growth estimate for 2014 by three-tenths of a point to 4.8%
Carat said the revision is based on data received to date from 59 markets across the Americas, Asia-Pacific and EMEA, and noted that it represents a marked improvement from 2013, when the agency estimated the global ad marketplace expanded only 3.3%.
Carat currently predicts the global ad economy will expand 5.0% in 2015.
With growth of 5% in advertising revenues this year, the UK is set to outperform Carat's forecast of a 4.8% global advertising growth rate. This will level out next year, when growth in the UK will reach 4.5% compared to a 5% global average. The UK is set to vastly outperform average Western European growth of 1.8% this year and 2.1% in 2015. Figures for 2013 also show that the UK's growth of 3.8% was a half percentage point higher than 3.3% growth globally.
For the full story click Mediapost.