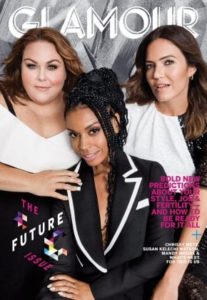 Glamour magazine will cease its regular print publication starting next year with a focus on "doubling down on digital," according to an internal email from editor-in-chief Samantha Barry.
Similar to Seventeen magazine's announcement last week, Glamour's print product will continue forward with a special interest issue-only model that Barry said will use print "the way our audiences do—to celebrate big moments, like Women of the Year, with special issues that are ambitious, lush, and have longevity."
Barry, who was appointed as EIC at the start of this year, was the first digital-native editor for the brand, coming from CNN where she headed the network's social media strategy. This hire by Condé Nast's artistic director Anna Wintour and CEO Bob Sauerberg was one of the major steps for Glamour in its transition to a digital-first strategy—a strategy that has been steadily transforming several female-facing fashion and lifestyle brands over the recent years, including Condé's Teen Vogue who shuttered its print product at the end of 2017.
The brand began reducing its print product at the end of last year when its frequency went from a monthly run to 11 issues per year, though Glamour's total paid and verified subscriptions have remained steady around 2.2 million since mid-2015, according to the Alliance for Audited Media. It's final print edition will be the January issue, which is scheduled to hit newsstands on Nov. 27, according to a New York Times report.