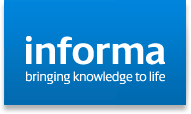 Informa Exhibitions today officially launches its new event, Cross Media Production, which will take place from 25-27 March 2014. Co-located alongside Ipex 2014, the UK's major international print event, at the ExCeL in London, Cross Media Production is a dedicated production and pre-media event that focusses on the effective implementation of cross media communication strategies across multiple platforms.
Developed in response to extensive canvassing of a cross-section of the multi-channel marketing arena, Cross Media Production will provide both the technologies and the content programme to help businesses create and manage integrated workflows that will yield a tangible return on marketing investment (ROMI).
"This event is all about 'looking under the hood' of cross media production technologies to better understand all the elements of design, production, data, procurement and delivery of media content and marketing collateral," explains Andrew Thornhill, Marketing Manager, Cross Media Production. "In the world of marketing, the use of increasingly divergent communication channels accessed via multiple platforms and devices causes a number of challenges for today's marketing campaigns. This new event will closely examine these deviating streams while also looking at the convergence of the production technologies that support them, showcasing the mechanics of how to execute a successful cross channel campaign from start to finish."
Cross Media Production will host demonstrations from a broad range of manufacturers at the forefront of developing cross media technologies, including solutions for paper, augmented reality (AR), mailing & fulfilment, digital asset management, colour management, variable data printing, multi-platform publishing, outdoor display print, creative packaging, magazine printers, email marketing and more.
The event will also run 60 free-to-attend theatre sessions during the three days that aim to dismantle the silos that divide the different marketing disciplines, such as print procurement and digital marketing. Developed for printers, marketers, print buyers, brands, agencies, publishers and other content creators, these sessions are spread across four specialised theatres.
Running alongside Ipex 2014, Cross Media Production will benefit from the attraction of Ipex's 500+ international exhibitors, anticipated 25,000 international visitors and the diverse range of markets that will descend upon the ExCeL London.
Trevor Crawford, Director, Print & Media Group, Informa Exhibitions, comments: "Cross Media Production sits perfectly alongside Ipex 2014. Both events promote the benefits of incorporating print into the marketing mix, but focus on different concepts within the print-supply chain. Ultimately, the print and creative communities will learn about widening their service offering to include cross media technologies, giving them the opportunity to grow profit margins and deliver multi-channel campaigns for their clients."
For the full story click Informa