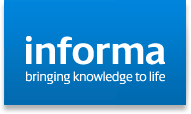 In an IMS Informa Group Chief Executive commented "Across the Group, our performance to date reflects a continuation of many of the trends we highlighted at the time of the full year results and the Board's expectations for 2014 remain unchanged. Two of our divisions, Academic Publishing and Global Events, are trading well, providing a strong operating base for The Informa Group. However, Business Intelligence continues to prove challenging. Key end markets remain unhelpful but we also recognise the need, as previously indicated, to better understand our market positioning, core capabilities and operating structure."
Global Events: Our events business has had a strong start to the year, delivering 3.5% organic growth through the first four months. Over this period, our Large Event Portfolio has performed well across different sectors, including Healthcare (Arab Health), Industrials (Middle East Electricity), Financial Services (SuperReturn), Beauty (Anti-Aging World Congress) and Print & Publishing (IPEX), although structural challenges in the Print Industry led to a significantly smaller IPEX exhibition than its previous edition in 2010.
A feature of the Global Events division in 2014 is that a number of our Large Event brands are scheduled to take place later in the year compared to 2013, which will impact the pattern of quarterly organic growth. In May, we ran the recently acquired, China Beauty Expo, in Shanghai, which performed well, ahead of our acquisition plan.
Some conference markets, particularly Continental Europe and Russia, continue to dilute the overall growth profile of Global Events but we remain confident on the performance of the division in 2014.
For the full RNS click Informa