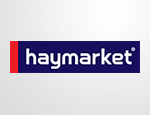 The Directors of BBC Haymarket Exhibitions Ltd announced today that the management, led by current MD Laura Biggs, has negotiated a buy out of the business. The company will change its name to River Street Events Ltd.
BBC Haymarket Exhibitions is a joint venture between Haymarket's Exhibitions division and BBC Worldwide that stages some of the country's leading consumer exhibitions.
Launched in 1990, BBC Haymarket Exhibitions has grown from a small subsidiary of the company to become the market leader in UK consumer Exhibitions. Haymarket Media will continue to run its consumer exhibition portfolio under the leadership of its managing director, Gavin Brown.
For the full story click Haymarket