Media 10 have purchased a majority stake in IGME Ltd, the company behind the ground-breaking eco-car event, EcoVelocity. Renowned for their portfolio of hugely successful home and lifestyle exhibitions such as Grand Designs Live and The Ideal Home Show, Media Ten have acquired the show to capitalise on the growing public trend towards a low carbon, sustainable lifestyle and intend to run Ecovelocity alongside Grand Designs Live at ExCeL London in May this year.
EcoVelocity will be a stand-alone event alongside Grand Designs Live and will continue with its own enhanced marketing campaign, which, with a considerably more accessible venue, will attract a much higher audience than in 2011.
Metro remain a core media partner and will be promoting the event, and it's exhibitors heavily through an advertising and editorial campaign. What Car? Magazine will be supporting EcoVelocity through its print and online community and will host their ever-more-important Green Awards from the show.
EcoVelocity also has extensive backing and support from a host of other national, regional and vertical media partners to ensure EcoVelocity becomes the most popular low carbon car show in the UK.
Grand Designs will further promote EcoVelocity (and vice-versa) and visitors to both shows will be able to pass freely from one show to another on a single ticket. Grand Designs Live had a record-breaking visitor attendance of over 100,000 last year and with the addition of EcoVelocity expect this figure to rise further in May this year.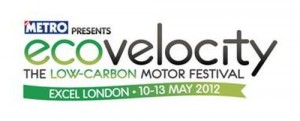 Visitors will be able to see and test drive the latest crop of eco vehicles which will include electric, plug-in hybrids, hybrids and other C02-busting vehicles. Once visitors have driven the cars on their shortlist they can visit Grand Designs Live to buy something perfect for the home or a new home.
For the full story click Media 10