Ocean Media Group Buys London Stationery Show & National Stationery Week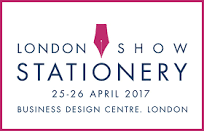 The London Stationery Show, the UK's most important trade exhibition for the paper and writing products industry, its consumer awareness campaign National Stationery Week, and Stationery Magazine have been acquired by Ocean Media Group, a leading provider of exhibitions, events, awards and specialist publications.
Founded by Chris Leonard-Morgan of LMC Media in 2011, the London Stationery Show marked its sixth show in April this year. During this time the show has trebled in size, attracting a growing number of suppliers every year, many of whom do not exhibit elsewhere, and visitors from across the retail spectrum, including companies from over 40 countries around the world.  The 2017 show is on course to continue its upward trajectory with over 85% of the 2016 stand space already booked.
Ocean Media Group currently works in three sectors; Weddings, where it runs the National Wedding Shows, and leading consumer events across the UK; Bridal, where it produces the leading trade publication and organises three key trade events, the Harrogate Bridal Show, the London Bridal Show and White Gallery; and Housing, a sector for which it organises conferences, events, awards, including Europe's largest housing event in partnership with the CIH, and publishes the leading trade magazines.
David Watt, CEO at Ocean Media commented, "This is an exciting opportunity to add two more market leading brands, and a new sector, to the Ocean portfolio.  The London Stationery Show has captured the imagination of both mainstream and niche retailers whilst stimulating consumer demand for quality stationery products. Ocean believes it can help foster the sector and help the London Stationery Show continue to grow to meet the demands of this vibrant industry."
Chris Leonard-Morgan, who will remain in place as an advisor on the show alongside the existing team, says, "The London Stationery Show has much to gain from the Ocean Media Group, who have a wealth of experience working with, and attracting large b2b and b2c audiences to their exhibitions, events and publications.  We are looking forward to making the most of the support, experience and investment which they can offer."
The 2017 London Stationery Show (www.stationeryshow.co.uk) will take place at the Business Design Centre on 25 – 26 April and National Stationery Week (www.nationalstationeryweek.com) from 24 – 30 April.
Ends
For further information please contact:
London Stationery Show/National Stationery Week
Chris Leonard-Morgan – 020 8462 0721 / clm@firstevents.com
Ocean Media Group
Tim Willoughby – 020 7772 8330 / tim.willoughby@oceanmedia.co.uk
Issued by:
Vanessa Fortnam
Marketing & PR, London Stationery Show 2017
Please contact Vanessa for show photos and logos.
E: vanessafortnam@thepressofficeltd.com
This e-mail and any attachments are for the intended addressee(s) only and may contain confidential and/or privileged material. If you are not a named addressee, do not use, retain or disclose such information.
This email is not guaranteed to be free from viruses and does not bind The Press Office Ltd. in any contract or obligation. Registered in England Number: 4898877