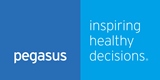 Last night Pegasus, the UK's leading independent health communications consultancy, was crowned EMEA Health Consultancy of the Year 2014 at the prestigious SABRE Award ceremony in London.
This high-profile award recognises excellence in health communications across Europe, the Middle East and Africa and superior achievement in branding, reputation and engagement. Selected as winner not only by peers in the health industry but also by leaders in the FMCG, corporate and financial sectors, the Brighton-based consultancy successfully beat stiff competition from Red Door, Virgo and First Light.
Pegasus is the fourth biggest independent health communications consultancy in the UK.
For the full story read PMLiVE