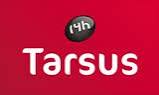 Hugh Scrimgeour will become an Executive Director of the Group on 5 March 2014 and Executive Chairman of Tarsus China. Hugh has over 20 years' experience in exhibition and venue management in China and the UK. He will lead the development and growth of the Group's business in the region. Following his change in role, Hugh will step down with immediate effect from his role as Senior Independent Director and from his Chairmanship of the Remuneration Committee and membership of the Audit and Nomination Committees.
Gary Marshall will step down as a Director of Tarsus on 5 March 2014 to relocate to the UK to take up the post of Chief Operating Officer of the Group. Gary joined Tarsus in 2010 and for the last four years has been responsible for the Group's significant initiatives in China.
Both Hugh and Gary will report to Douglas Emslie, Group Managing Director.
David Gilbertson will join the Board of Directors of Tarsus on 5 March 2014 as a Non-executive Director. He will become the Senior Independent Director, Chairman of the Remuneration Committee and a member of the Nomination, Audit and Disclosure Committees.
For the full RNS click Tarsus