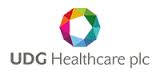 Press Release: UDG Healthcare plc ("the Group"), a leading international healthcare services provider, is pleased to announce the acquisition of MicroMass Communications ("MicroMass"), a US-based healthcare communications agency specialising in behavioural change, for a total consideration of up to $75.8m. MicroMass designs solutions across all therapeutic areas that improve patient and health outcomes by changing patient and provider behaviour. These solutions are created bespoke to the needs of each of MicroMass' pharmaceutical clients. As the role of patients in healthcare decision making expands, coupled with the ongoing shift to digital channels, demand from pharmaceutical companies for behavioural change and direct patient engagement capabilities is increasing.
MicroMass generates the majority of its revenue from patient engagement and support programmes, with the remainder coming from HCP (healthcare professional) focused work. MicroMass' behavioural change and patient support and adherence services, are highly complementary to the existing services provided by both the Ashfield Communications and Commercial & Clinical businesses.
MicroMass is being acquired for an initial consideration of $63.8 million, with an additional consideration of up to $12 million payable over the next three years, based on the achievement of agreed profit targets. MicroMass employs more than 100 people at its headquarters in Cary, North Carolina. The existing management team, who have been with the business for more than 10 years, will remain with the business post acquisition.
Commenting on the announcement, Brendan McAtamney, CEO of UDG Healthcare plc, said: "I am delighted to welcome MicroMass into the UDG Group. They have developed a highly-differentiated suite of patient and HCP solutions, with a strong reputation and a significant presence within the highly-fragmented healthcare communications market.  MicroMass provides the Group with the ability to strengthen Ashfield's presence and capabilities in the US market, whilst also providing us with a platform to expand into the high growth areas of behavioural change and direct patient engagement.
"UDG has now committed more than $275 million to acquisitions this financial year, in line with our strategy of expanding into higher growth, higher margin areas, through acquisitions that add further capabilities for our global pharmaceutical client base and are a strong strategic and cultural fit to our existing businesses."
MicroMass President, Alyson Connor said: "We are excited to be joining the team at UDG Healthcare. Being part of a global business creates new opportunities for continued growth and new collaborations within UDG, which will enable us to develop more comprehensive solutions for our clients. UDG aligns very well with our culture, mission and values and will provide new opportunities for our employees.
About UDG Healthcare plc:
UDG Healthcare plc (LON: UDG) is a leading international partner of choice delivering commercial, clinical, communications and packaging services to the healthcare industry, employing over 8,000 people with operations in 23 countries and delivering services in over 50 countries. UDG Healthcare plc operates across three divisions: Ashfield, Sharp and Aquilant.
Ashfield is a global leader in commercialisation services for the pharmaceutical and healthcare industry, operating across two broad areas of activity: commercial; clinical services, and communications services. It focuses on supporting healthcare professionals and patients at all stages of the product life cycle. The division provides field and contact centre sales teams, healthcare communications, patient support, audit, advisory, medical information and event management services to over 300 healthcare companies.
Sharp is a global leader in contract commercial packaging and clinical trial packaging services for the pharmaceutical and biotechnology industries, operating from state of the art facilities across the US and Europe.  Sharp is also a world leader in 'Track and Trace' serialisation services.
Aquilant is a leading provider of outsourced sales, marketing, distribution and engineering services to the medical and scientific sectors in the UK, Ireland and the Netherlands.
The company is listed on the London Stock Exchange and is a constituent of the FTSE 250. For more information please go to: http://www.udghealthcare.com/
About MicroMass Communications:
Founded in 1994, MicroMass Communications is a US-based healthcare communications agency specialising in behavioural science and change strategies on behalf of pharmaceutical companies. Behavioural science is the scientific and systematic study of behaviour to explain why people behave in certain ways and how their behaviour can be changed. In healthcare, this can be used to improve outcomes.
MicroMass is based in Cary, North Carolina, with more than 100 employees. It uses its unique expertise in health behaviour to change patient and provider behaviour and deliver optimal health outcomes. MicroMass provides services across four areas: patient engagement and support; relationships marketing; precommercial and clinical; and health behaviour and consulting. MicroMass clients include leading pharmaceutical companies worldwide such as GlaxoSmithKline, Sanofi, Merck, Novo Nordisk, Novartis, Gilead and Teva pharmaceuticals
For more information, please go to: "http://www.micromass.com/"