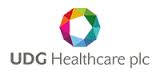 Press Release: 17 July 2017: UDG Healthcare plc ("the Group"), a leading international healthcare services provider, is pleased to announce the acquisition of Cambridge BioMarketing LLC, a US-based healthcare communications business, for a total consideration of up to $35m.
Cambridge BioMarketing is an industry leader in orphan and rare disease drug launches, a fast-growing area of drug development and commercialisation. The orphan drug and rare disease market is forecasted to grow by a CAGR of 11% between 2017 and 2022 to $209bn, with orphan drugs estimated to account for 21.4% of prescription sales by 20221. Cambridge BioMarketing also has a strong creative and digital function in a market where digital content is becoming increasingly important for pharmaceutical companies.
The acquisition of Cambridge BioMarketing provides a platform for growth, specifically in Cambridge, Massachusetts and Oakland, California, both of which have a strong biotech presence. It follows the acquisition of Vynamic, a US-based healthcare industry management consulting firm, announced on 12 July 2017, both of which are in line with Ashfield's strategy to expand in the US.
Cambridge BioMarketing is being acquired for an initial consideration of $30 million, with an additional consideration of up to $5 million payable over the next twelve months, based on the achievement of agreed financial targets.
Commenting on the announcement, Brendan McAtamney, CEO of UDG Healthcare plc, said: "The acquisition of Cambridge BioMarketing provides us with industry-leading expertise in the fast-growing area of orphan and rare disease drugs and adds further capabilities in patient-focused communications programmes, an increasing focus for pharmaceutical companies. The acquisition is in line with our strategic ambitions to grow our healthcare communications business in the US and expand the range of services we offer to our global pharmaceutical customer base."
Cambridge BioMarketing CEO, Maureen Franco said: "We are thrilled to be joining UDG Healthcare.  Being part of the UDG group provides us with a deeper, complementary suite of services including healthcare communications, consulting, market access, clinical services and meeting and events, as well as a global footprint – allowing us to better serve our clients and providing increased opportunities for our employees."
About UDG Healthcare plc:
UDG Healthcare plc (LON: UDG) is a leading international partner of choice delivering commercial, clinical, communications and packaging services to the healthcare industry, employing over 8,000 people with operations in 23 countries and delivering services in over 50 countries.
UDG Healthcare plc operates across three divisions: Ashfield, Sharp and Aquilant.
Ashfield is a global leader in commercialisation services for the pharmaceutical and healthcare industry, operating across two broad areas of activity: commercial & clinical services, and communications services. It focuses on supporting healthcare professionals and patients at all stages of the product life cycle. The division provides field and contact centre sales teams, healthcare communications, patient support, audit, advisory, medical information and event management services to over 300 healthcare companies.
Sharp is a global leader in contract commercial packaging and clinical trial packaging services for the pharmaceutical and biotechnology industries, operating from state of the art facilities across the US and Europe.  Sharp is also a world leader in 'Track and Trace' serialisation services, which will require all prescription drugs to have a unique serial code for authentication and traceability.
Aquilant is a leading provider of outsourced sales, marketing, distribution and engineering services to the medical and scientific sectors in the UK, Ireland and the Netherlands.
The company is listed on the London Stock Exchange and is a constituent of the FTSE 250.
For more information, please go to: www.udghealthcare.com
About Cambridge BioMarketing
Founded in 2001, Cambridge BioMarketing is a US based communications agency specialising in rare orphan diseases with over 100 employees based across two sites in Cambridge, MA, where the business is headquartered and in Oakland, CA.
Cambridge BioMarketing's primary service offerings include: launch readiness support, digital strategy, market analytics, integrated marketing, patient identification and acquisition, medical affairs support, line extensions and patient retention and adherence programmes. Its customers are predominantly pharmaceutical and biotech companies.
Cambridge is an industry leader in orphan drug launches, advising pharmaceutical companies on both traditional HCP (healthcare professional) focused programmes, as well as an increasing specialism in patient-focused work, an area of growing focus for pharmaceutical companies.
For more information, please go to: http://cambridgebmg.com/