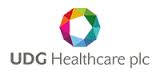 Press Release:  UDG Healthcare plc,  a leading international provider of healthcare services, announces that it has acquired STEM Marketing Limited, the leading global provider of commercial, marketing and medical audits to pharmaceutical companies for a total consideration of up to £84m ($103m). Transaction highlights:
· STEM is the leading global provider of commercial, marketing and medical audits to pharmaceutical companies. This unique service uses a proven, evidence based methodology to quantify and benchmark organisational alignment and quality of execution to create practical action plans to accelerate brand performance.
· STEM is a global business offering services across 35 countries including the US, EU, Japan and China and its customers include 18 of the top 20 largest pharmaceutical companies.
· Highly cash generative, high margin business with strong growth in recent years.
· Significantly expands Ashfield's service offering and capabilities in the commercial and clinical services market and complements Ashfield Healthcare Communications global offering.
· In line with UDG's strategy to grow both organically and via acquisition with a focus on high growth areas.
· For the year ending 31st December 2015, STEM had gross assets of £13.5m ($16.5m) which generated EBITDA of £5.5m ($6.7m).
· Upfront acquisition multiple of 8.1x EBITDA based on the current trading performance of STEM.
· The acquisition will be financed from existing cash facilities and is expected to be immediately accretive to earnings. Additionally, the acquisition is expected to deliver a return on capital employed in excess of the Group's target of 15% within 3 years.
Commenting on the announcement, Brendan McAtamney, Chief Executive of UDG Healthcare plc said:
"STEM is an excellent strategic fit for UDG and is wholly aligned with our global growth strategy of expanding our market leading positions providing services to the pharmaceutical sector. The acquisition of STEM, a business with an established global footprint and strong growth opportunities, will enable us to provide new services to our clients, which are highly complementary to those already delivered by our Ashfield business.
We place great emphasis on cultural fit when looking at potential acquisition opportunities and STEM comes with an excellent management team, which will become an important part of our client offering and the wider UDG Healthcare Group."
Commenting on the announcement, Rob Wood, Chief Executive of STEM said:
"We are delighted to begin an exciting new chapter for STEM as part of the UDG Healthcare Group. We wanted a partner who would help us to accelerate our global performance. Our new working relationship with UDG will not only facilitate geographic expansion but will also enable further client offerings and most importantly provide our employees with broader career options and widen our talent pool."
Structure of the Transaction:
STEM is being acquired for an initial consideration of £55m ($67.4m) upon completion (comprised of a £50m ($61.3m) cash payment and £5m ($6.1m) in UDG Healthcare plc ordinary shares) subject to adjustments for cash and normalised working capital. An additional consideration of up to £29m ($35.5m) (comprised of a £24m ($29.4m) cash payment and £5m ($6.1m) in UDG Healthcare plc ordinary shares) is payable over the next three years.
Contingent on the achievement of pre-defined financial targets, the first instalment (up to £5m ($6.1m)) will become payable within six months of completion with the remainder (up to £24m ($29.4m)) payable within three years of completion.
The ordinary shares issued as part of the initial consideration will be subject to customary "lock-up" arrangements. The exact number of ordinary shares in UDG Healthcare plc to be issued as part of the initial and deferred consideration, will be determined based on the average share price of the Group in the 15 days trading post completion.