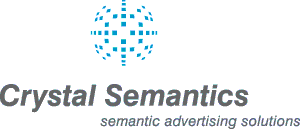 WPP announces that 24/7 Media, Inc., WPP Digital's marketing technology company, has acquired the entire issued share capital of Crystal Semantics Limited. Crystal Semantics is an award-winning provider of semantic advertising solutions.
With its proprietary technology, Crystal Semantics accurately matches advertising to the meaning of a page of web content, greatly reducing the risk of inappropriate advertising placement. With the acquisition, the combined companies will provide distinct advantages to both advertiser and publisher clients through improved advertising relevance and enhanced brand protection. Founded in 2001 and based in London, Crystal Semantics is a major provider of online data services to advertising agencies, networks and exchanges.
This investment continues WPP's strategy of strengthening the Group's capabilities in digital media and in mobile advertising. WPP's digital revenues were well over US $5 billion in 2012 and represented 33% of total Group revenues of US $16.5 billion. The Group is targeting at least 40-45% of revenues to come from each of fast-growth markets and new media over the next five years.

Within WPP, its operating company WPP Digital develops new digital services, provides common data and technology platforms for WPP clients and agencies and coordinates relationships with leading digital media and technology companies. WPP Digital comprises the agencies Blue State Digital, POSSIBLE, Rockfish, and F.biz in Brazil; the technology companies 24/7 Media, Acceleration, Hogarth and Salmon; as well as investments in technology companies such as eCommera, mySupermarket and Fullscreen.
For comment on this press release click Mediapost