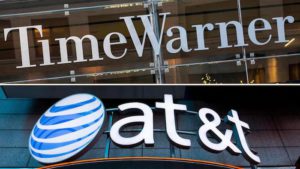 AT&T's proposed $85.4bn acquisition of Time Warner will create a third force in digital advertising that could take on the "duopoly" of Google and Facebook, the US media group's chief executive argued on Tuesday.
The deal has sparked concern that it risks reducing competition, but Jeff Bewkes said it would be good for the digital advertising market. "The one thing they [Google and Facebook] love is innovation and competition and we are here to help," he said at the WSJD conference in Laguna Beach.
Google will account for 32.4 per cent of the $229.3bn worldwide digital advertising market this year, according to data from research firm E-Marketer, with Facebook the second largest player with 13.3 per cent. Verizon's $4.bn addition of Yahoo's core business, which combines the online pioneer with AOL, was also billed as creating a third force in digital ads.