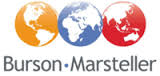 NEW YORK, April 20, 2016 /PRNewswire/ — Burson-Marsteller, a leading global strategic communications and public relations firm, announced today it has agreed to acquire a majority stake in Turkish communications firm Effect PR. Headquartered inIstanbul, Effect PR has been Burson-Marsteller's exclusive affiliate partner in Turkey since 2012. Following the acquisition, it will become a full member of the network and be renamed Effect Burson-Marsteller.
"Taking a majority stake in one of the country's leading agencies underscores that Turkey is a critical market for our global growth," said Donald A. Baer, Worldwide Chair and CEO, Burson-Marsteller. "With Effect Burson-Marsteller, we will continue to offer our clients significant opportunities to build their businesses in all major markets around the world."
"Our relationship with Burson-Marsteller over these four years has been very rewarding," said Gonca Karakas, Founder and CEO, Effect Burson-Marsteller. "This acquisition is the natural move to take our partnership – which is based on common values and a shared evidence-based approach to communications – to the next level. Our clients have become more international than ever, and sharing knowledge on best practices will be extremely important for us. The ability to work even more closely with this outstanding global network will benefit all our clients. We are very proud to become a fully integrated part of the Burson-Marsteller family."
Jeremy Galbraith, Burson-Marsteller EMEA CEO and Global Chief Strategy Officer, said, "I am very happy we are strengthening our EMEA network in one of the most important markets in the region. Effect PR has seen continued growth and rapidly expanded its work with major Turkish and international brands, thanks to Gonca and her dynamic team. I am confident that with Effect Burson-Marsteller we will continue to grow a strong offering and client base in EMEA, and I am delighted to welcome Gonca to our EMEA Leadership Team."
About Burson-Marsteller
Burson-Marsteller, established in 1953, is a leading global strategic communications and public relations firm. It provides clients with strategic thinking and program execution across a full range of public relations, public affairs, reputation and crisis management, advertising and digital strategies. The firm's seamless worldwide network consists of 73 offices and 85 affiliate offices, together operating in 110 countries across six continents. Burson-Marsteller is a part of Young & Rubicam Group, a subsidiary of WPP (NASDAQ: WPPGY), the world's leader in communications services. For more information, please visitwww.burson-marsteller.com.