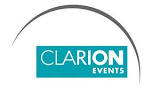 Media 10 has sold Asia's leading design sector events Design Shanghai and Design China Beijing to Clarion Events.
Headquartered in Shanghai and launched by Media 10 just 5 years ago, Design Shanghai is widely regarded as Asia's premier international design event and one of the most prestigious design events worldwide.  China's design market, the world's biggest, is growing rapidly and the acquisition aims to accelerate development of the events by combining the market knowledge and relationships of the Design Shanghai and Beijing teams, with Clarion's 70 years of experience cultivating world class events.

Clarion's growing presence and investment in the region will support expansion of the events, to the benefit of both business clients and the wider design industry in the region. Clarion's highly complementary portfolio includes leading design, fashion, furniture and interiors events.
"We have been following the success of Design Shanghai with great interest since its inception in 2014 and we are extremely excited about our new partnership. The global design sector is highly dynamic and China is one of the world's biggest markets. We've been impressed with the management team's ambition and approach and see a great future for the design events in the region going forward." said Neil Gaisford, Clarion Events' Managing Director (Retail & Home Division)
Media 10 will continue to own and operate its other market-leading events in China, while seeking other opportunities to grow on its success in the region and beyond.
Lee Newton, Media 10 Founder and CEO said, "I am incredibly proud of what has been achieved in only 5 years since we launched Design Shanghai.  We have accomplished something that very few event organisers have been able to in China; to independently launch and successfully scale a world-class exhibition. The team have worked tirelessly to create two truly outstanding events and I believe that Clarion are the perfect partner to build on this success and write the next chapter of this story.  This transaction also leaves Media 10 in a great position to explore new investment and acquisition opportunities both in China and across other parts of the world".
Design Shanghai and Beijing will continue to be headed by Event Director Zhuo Tan, who has stated that she is looking forward to growing the events through Clarion's expertise in the design sector, track record of global expansion and its ethos of cultivating a strong international presence in its key markets.
"Clarion shares our passion for design and is the ideal partner to solidify our rapid growth and push forward with our plans for the future development of our events in China.  We have built a fantastic team that is ready for the next stage in our journey and the experience, resource and commitment from Clarion will undoubtably be of great value," Said Zhou Tan in a statement.
About Media 10
Media 10 was established in 2003 and is the most decorated media and events company in the UK. The privately-owned business, based just outside London, has fast become one of the leading players in the industry, running some of the most iconic and successful events and media platforms in the UK and more recently in China and South Africa. The company continues to be an important player in the international design sector running a stable of successful events including Clerkenwell Design Week and 100% Design in London and Design Joburg in South Africa. For more information, visit www.media-ten.com
About Clarion Events
Clarion Events is one of the world's leading events organizers, producing and delivering innovative and market-leading events since 1947. In more recent times the firm has grown into a truly international business, with a portfolio of events and media brands across a range of vertical markets. Clarion provides a range of services to the design, fashion, furniture and interiors sector through market leading brands including Top Drawer, Premium Berlin, Lighting Design Awards and January Furniture Show. For more information, visit www.clarionevents.com