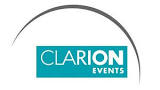 The organiser of some of Britain's biggest shows, including the House & Garden Festival and Olympia Horse Show, has been put up for sale with a £600 million price tag.
London-based Clarion Events, led by former RAF officer Simon Kimble since 2001, specialises in the retail, energy and technology sectors, but also runs DSE, the world's biggest arms fair at London's Excel centre.
The Mail on Sunday understands Clarion's owner, Providence Equity, has hired HSBC and US investment bank Moelis to sound out buyers.