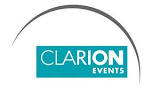 London based Clarion Events, one of the world's leading independent event organisers, has announced it has acquired the Digital Insurance Agenda (DIA), the leading European event series serving the rapidly growing insurtech market.  The addition of DIA further enhances Clarion's portfolio of events and digital platforms within the insurance market.
In 2019 Clarion acquired InsureTech Connect (ITC), and has welcomed over 30,000 insurtech, insurance and investment leaders from 100+ countries to Las Vegas, and successfully launched the brand into Asia earlier this month.  DIA, founded by digital insurance strategists, Roger Peverelli and Reggy de Feniks, is renowned for their cutting-edge insurtech festivals in Barcelona, Amsterdam and Munich, and their content-rich platforms including DIA TV.   Together, the acquisition will provide Clarion with enhanced capabilities, and complements its existing insurtech offering – ITC.
"The addition of DIA further enhances Clarion's ability to deliver value to our customers and partners in the insurtech and insurance community" commented, Russell Wilcox, Clarion Events CEO.  "We look forward to working with the highly talented team at DIA, to open up an array of exciting new products and digital services to insurance companies, tech leaders and investors globally."
"Ever since we started DIA, we have been passionate about connecting insurance executives with insurtech leaders, contributing to the adoption of insurtech at scale, resulting in, significant top-line and bottom-line impact for insurers", said Roger Peverelli, Co-founder DIA. "Combining our assets and competences with those of Clarion Events and the ITC brand is taking that to a next level."
Reggy de Feniks, Co-founder, DIA added: "Together with ITC we want to bring new added value to our customers; from start-ups to the big names in tech, from domestic insurers to the large multinational carriers, and from VCs to corporate investment arms. By multiplying our network and by worldwide coverage, we can now serve our partners even better as their strategic counterpart: across continents, across platforms, and across the year."
About Digital Insurance Agenda (DIA):
Right from its inception in 2016, DIA (Digital Insurance Agenda) has been missioned to connect insurance executives with insurtech leaders from all over the globe, to accelerate digital transformation and innovation in insurance. Their signature events in Barcelona, Amsterdam and Munich are renowned for their iconic venues and distinctive festival vibe, and coined the 'must-see' insurtech events in Europe. In the last few years, the DIA teams in The Netherlands and Spain successfully expanded their digital content platforms. Combined with their leading in-person events they are offering added value to the insurtech and insurance innovation community throughout the year.
www.digitalinsuranceagenda.com
About Clarion Events
Clarion Events operates over 180 events in 50 countries around the world. Clarion can trace its roots back to 1947 and takes great pride in being one of the oldest independent event organizers in the UK.  More recently the firm has developed an international portfolio of brands and now has interests in a number of global vertical industries including energy, security and defense, electronics, technology, fashion, retail, gaming and marketing. The teams at Clarion create uniquely effective and stimulating environments that can serve as a platform to build businesses, enhance customer relationships and accelerate product awareness. www.clarionevents.com