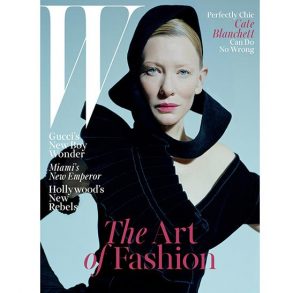 Conde Nast's W magazine announced it is moving to new ownership today.
W magazine will join Surface and Watch Journal under a newly formed media company dubbed Future Media Group. W will operate offices in Paris, Milan and New York with a future bureau to open in Los Angeles, under Future Media Group. Financial terms of the sale were not disclosed.
Moonves has previously worked at Vogue and T: The New York Times Style Magazine. She joined W in 2017 as style director.
Marc Lotenberg, CEO of Future Media Group, noted Moonves' "enormous credibility in the fashion community, not to mention a forward-thinking sensibility" as assets that will serve the title "beyond its core print distribution into various offline, online and augmented formats."
Under the new arrangement, W will continue to publish eight print issues a year. The title reports over 500,000 paid subscribers, with a digital global media reach of more than 3 million users a month on its website. Its videos count 23 million views on average per month.
W also operates within 20 different Instagram franchises.
Conde Nast will provide support during the transitional period. The sale of W follows the recent sales of Brides and Golf by Conde Nast.
For the full story read MediaPost