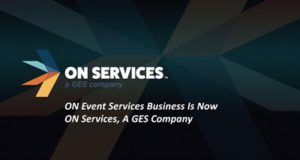 Press Release: LAS VEGAS – August 12, 2016 – GES, a global full-service provider for live events, announced the acquisition of the business of ON Event Services, LLC, a leading provider of live event audio visual production services that includes audio, video, lighting, mapping and scenic design. In addition, the business produces high-end entertainment events and provides in-house audio visual services to hotels, arenas, and conference centers. This expansion builds on the acquisition of Blitz Communications in the UK (2014) and enables GES in the US to serve more fully the live event needs of clients with industry-leading audio visual and event production services that engage participants and enhance productions.
With this latest expansion, GES is charting a course to become the leading partner for live events, offering the most comprehensive range of services and technology with unrivaled global reach. GES provides scale, scope, and strength in audio visual and event production services, which is a top priority for live events worldwide. Today's announcement adds significant capabilities around live events including corporate events, conferences and exhibitions.
"We selected the business of ON Event Services because of its expertise in high-end AV production and extensive library of AV technologies. The addition accelerates our position and takes us to the next level of serving our clients with a full range of event and technology services," said Steve Moster, president of GES and president and chief executive officer of Viad Corp. "The extensive event production capabilities of the business of ON Event Services perfectly complement GES' core live event services for corporate events, exhibitions, conferences and exhibits.  I'm excited to welcome ON Event Services' leadership team and its more than 225 talented team members to the GES family."
The acquired business of ON Event Services will operate and go to market as ON Services, a GES Company, and Stan Milner, president of the company, will continue in his role, reporting directly to Moster.
"ON Services and GES are a great fit. It was important for us to join a company with a similar focus on creating live experiences and dedication to client service," said Milner.  "We are looking forward to working with the GES team to help clients create engaging events from start to finish. This provides great opportunities for our clients and our employees."
ON Services supports more than 1,000 events per year in vibrant industries, including technology, automotive, and oil and gas, complementing GES' strength and experience in these markets. Its more than 800 clients include major corporations such as Coca-Cola, INFOR and World Financial Group, agency partners, venues and many leading hotel brand properties, including Marriott, Hilton, Westin, Embassy Suites, and Sheraton. In addition, ON Services is the preferred in-house provider of audio visual services for 30 venues and six major concert facilities. With the addition of ON Services, GES now has more than 85 facilities worldwide. For more information about ON Services, a GES Company, click here.