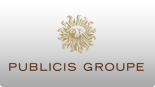 Publicis Groupe announced today the acquisition of ETO, a leading agency in CRM based in Lille and Paris. This move allows Publicis Worldwide to advance its offerings in the field of CRM and datamining (the study of big data), while also expanding its reach in France and worldwide.
Founded in 1985 by Jean Derreumaux and Nicolas Leconte, ETO counts today 220 employees specializing in helping brands develop sustainable and profitable relationships with their clients through CRM, digital marketing and big data technologies. Having experienced consistent growth for the last 20 years, ETO is built upon a hybrid model bridging marketing and technology. The agency is notably strong in data management and analysis, in which it brings together over 100 team members.
ETO is an agency with a hybrid business model combining marketing and technology. Set up in 1986, it now has a staff of 220 and provides the full array of customer marketing services including consulting, design and building of CRM platforms, data mining, data management, and multichannel production. ETO is specialized in cross-channel data marketing, and brings its brands the entire set of skills and tools required to manage the customer experience at all points of contact. ETO operates close to 50 CRM platforms (one-third of these abroad) for brands such as Danone, Go Sport, LVMH, Orange or Total.
For the full press release click Publicis Groupe