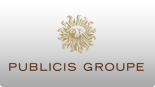 Publicis Groupe announced today that it has acquired 100% of Qorvis Communications, one of the most respected independent public relations firms in the United States.
The agency will become part of MSLGROUP, Publicis Groupe's strategic communications and engagement network. Counting over 80 professionals and based in Washington, D.C. Qorvis will greatly increase MSLGROUP's presence in the important market.
Founded in 2000 by Managing Partner Michael Petruzzello, Qorvis counts numerous high-profile sovereign nations, organizations and global brands among its clients, such as AAMCO, Cisco Systems, The Mayo Clinic, The United States Institute for Peace and the American Pharmacists Association. While much of the firm's work is in publicaffairs, it also offers strong social and digital and is known for its
seamless, fully integrated approach.
For the full story click Publicis