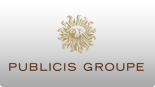 Maurice Lévy, Chairman and CEO of Publicis Groupe stated in a press release:
"After a fourth quarter well below our expectations (+0.7%) in 2013, the Groupe is now back to more satisfactory organic growth of +3.3% (+6.8% before the impact of exchange rates).
The emerging markets contracted at the end of last year, particularly China which ended the quarter at -10.8% (Q4), but are now back to growth. The good news in Q1 2014 is Europe, where long-awaited growth was registered, though it does remain fragile. Germany is buoyant, but the most interesting news comes from Italy and Spain which have both recorded positive quarterly growth for the first time since 2011. France is also beginning to show encouraging signs.
Added to the double-digit growth in digital activities and the marked improvement in healthcare, these are good reasons that allow us to feel confident about 2014. We therefore maintain our growth objective of over 4% for the full year, though growth will not be as strong in the second quarter due to the high comparables. As we continue to improve our margin (moderate increase in the first quarter), we are on track to reach our growth and profitability targets as set forth in the Publicis Groupe strategic plan by 2018, excluding the merger project.
Finally, the merger of equals with Omnicom is moving forward even though progress is
slower than anticipated."
For the full press release click Publicis