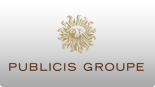 The Paris based holding company posted revenue of approximately $2.27 billion, up 3% with organic revenue growth of 3.5%, versus 2% in Q3 2012. Levy reported the "good news" that the struggling European region showed an uptick of 0.4% organic growth. For the first nine months of the year organic growth was up 3.3%. The company didn't report profits for either period.
Maurice Levy, Publicis Groupe CEO commented: "Our third quarter was in line with our internal forecasts despite tensions stemming from Brazil and the situation in Syria. Europe, for the first time this year posted moderate growth…..
For 2013, we are maintaining our internal objectives of organic growth above the 2.9% achieved
in 2012, in the region of 3.5 to 3.6%. However, as is the case every year, the fourth quarter is
always somewhat unpredictable given volatility levels at year-end. Caution is required
particularly since the global economic situation has come under the threat of government
shutdown in the USA. We are nonetheless confident about 2013, confident about our growth
and margin performance, and confident about the new page of history we will be writing with our
merger of equals alongside Omnicom."
The Publicis revenue report came just a day after its proposed merger partner reported Q3 financial results showing 4.1% organic growth for the period.
For the full story click Publicis