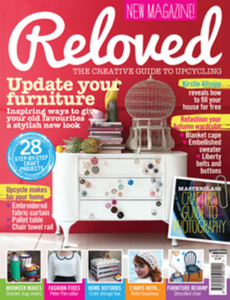 Press Release: In a deal brokered by Martin Wright of Media-Mergers (www.mediamergers.co.uk) Reloved magazine and website, the UK's first "upcycling" magazine has been acquired by Select Publishing Services Ltd.
Reloved was launched as a quarterly in April 2013 as the UK's first upcycling magazine. Having achieved strong sales at retail both in the UK and overseas, it turned monthly in 2014 with distribution across major UK grocers, WH Smiths, Hobbycraft and Costco as well as Barnes & Noble in the US. Subscriptions have grown consistently and are now at their highest ever level..
Upcycling has emerged as a dynamic trend over the past five years or so as people have embraced thrift, recycling, craft, re-use and a love of authenticity in the home. Reloved is the only magazine that embodies this trend on the newsstand.
About Anthem
Anthem was the PPA Independent Publisher Of The Year 2014. Anthem is a small/medium sized company with core strengths in Food and Music. Following a strategic review, the directors decided to focus more strictly on those sectors and divest any brands outside of the core markets. Reloved enjoys a passionate following amongst its readers and consistent revenue streams. www.anthem-publishing.com

About Select Publishing Services
Tim Harris started Select Publisher Services in August 2005 after having worked in various parts of the publishing world. Tim has a unique perspective in that he has seen the business from all sides, publisher, distributor and retailer. It is because of this that Tim and Select Publisher Services Ltd is able to offer such a comprehensive and unique service to their clients.
As well as offering service in circulation, distribution, print, promotion and consultancy, Select PS also now publish their own titles.
Vegetarian Living is the best selling magazine for a healthier, cruelty free lifestyle. For vegetarians, vegans and everyone who enjoys good food, exciting recipes, news, products and the freedom to enjoy life without harming others, the planet or ourselves.
Writers' Forum is the smartest magazine for all writers. Each issue is full of tips, advice and real life successes. Workshops, competitions, prizes and events as well as news and veiws. If you write anything then Writers' Forum will be of interest. www.selectps.com www.relovedmag.co.uk