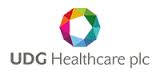 UDG Healthcare plc has announced the acquisition of Create NYC, a New York-based disruptive creative communications agency and SmartAnalyst, a New York-based strategic commercialisation consulting and analytics business, for a combined consideration of up to $82.4 million. Both companies are dedicated to the healthcare market.
Create NYC
Create NYC is an innovative New York-based healthcare creative communications agency, offering the tactical execution of sales and marketing materials for its international pharmaceutical clients. Create NYC's offering comprises a unique, disruptive model which gives its clients high impact, on-demand flexible marketing support with a flat fee structure. This approach complements the more traditional agency model.
The core value proposition of Create NYC's on-demand model means it can deliver its service with a faster response time and at a highly competitive price. The company utilises a qualified hub of outsourced resources to deliver its high quality creative work. Founded in 2009 by Natalie McDonald, who remains with the company as CEO, Create NYC employs 43 people in-house. The business will become part of Ashfield Communications.
US Pharmaceutical companies spend $25 billion annually on promotion including marketing and advertising. As market dynamics change due to the increased complexity of drugs, increasing competition, regulation and rising prices there is a demand from pharmaceutical clients for greater efficiency from their marketing and advertising spend. Create NYC's capabilities play strongly into this market opportunity.
Create NYC is being acquired for a total consideration of up to $58.4 million, with $17 million paid upfront (approximately 2.5x EBIT), and an earn out of up to $41.4 million over five years ($23.5 million payable after three years and $17.9 million payable after five years).
The acquisition of Create NYC is in line with Ashfield's strategy to expand into areas of differentiated but aligned adjacencies to its core scientific communication capabilities. For Create NYC, Ashfield provides the opportunity to diversify its client base and expand internationally.
For the year ending 31st December 2017, Create NYC had gross assets of $9.1 million, which generated operating profits of approximately $7 million. It is expected to deliver a return on capital employed in excess of the Group's target of 15% within three years. The transaction completed on 2nd July 2018.
SmartAnalyst
SmartAnalyst is a US-based strategic consulting and analytics business focused on the pharmaceutical and biotech sector. The company was founded in 2001 and has 135 employees based across operations in New York, London and Gurgaon, India. SmartAnalyst provides strategic consulting services to pharmaceutical and biotech companies to support disease, asset, and portfolio level decisions. SmartAnalyst also provides Health Economics and Outcomes Research (HEOR) services, which uses evidence based data and analytics to demonstrate the value of products and to support market access and reimbursement with payors. HEOR is a high growth area, driven by market dynamics such as the increasing complexity of drugs, the changing landscape of market access, cost and regulatory pressures, and the increased scrutiny of real world outcomes.
The acquisition of SmartAnalyst is in line with Ashfield's strategy to expand its advisory service proposition for its healthcare clients and follows the acquisitions of STEM in October 2016 and Vynamic in July 2017. SmartAnalyst provides Ashfield with access to commercial development decision makers, as well as infrastructure in India. Ashfield will provide leverage and opportunities to grow Smart Analyst's customer base outside the US through Ashfield's global business.
SmartAnalyst is being acquired for a total consideration of up to $24 million. This includes initial consideration of $18 million, with an earn out of up to $6 million payable over the next three years, based on the achievement of agreed profit targets. The acquisition is expected to deliver a return on capital employed in excess of the Group's target of 15% within three years. The transaction completed on 29th June 2018.
Both transactions will be financed from existing cash and debt facilities and are expected to be earnings accretive.
Commenting on the announcement, Brendan McAtamney, CEO of UDG Healthcare plc, said:
"We are delighted to announce these two acquisitions, which further expand the services we offer our healthcare clients. Create NYC adds innovative, creative services within Ashfield Communications and SmartAnalyst expands Ashfield's advisory pillar, adding new capabilities in strategic consulting and the high growth area of Health Economics and Outcomes Research."