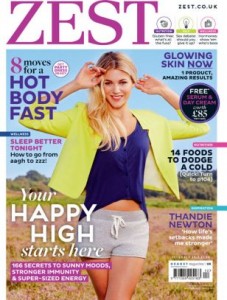 Tuesday 5th November. Hearst Magazines UK has today confirmed plans to close Zest with immediate effect. The last issue of Zest (January 2014) will publish on 5th December.
The decision to close the brand was made following a recent business review across the Hearst Magazines UK portfolio. The review was undertaken to ensure Hearst Magazines UK operates more efficiently and effectively as it re-shapes itself for the future.
Anna Jones, COO for Hearst Magazines UK says: "Closing a magazine is never an easy decision, but we have made this move because we believe it is the best way to ensure Hearst Magazines UKremains robust and adaptable for the future and more responsive to changing consumer and advertiser needs. We are taking this decisive action now so that we have time to put resources into those areas that will really make the difference in the coming year."
Zest has earned a loyal following in its market, and the hard-working teams behind the brand led by Editor Mandie Gower and Publisher Nadia Dawson, have shown outstanding dedication and loyalty to the title. Hearst Magazines UK will endeavour to find new roles within its portfolio for those staff impacted by the closure of Zest.
The company will now concentrate on the growth of its other titles within the health and fitness sector – Women's Health, Men's Health, Runner's World, Triathlete's World, NetDoctor and Cosmo Body. Hearst Magazines UK will shortly be announcing plans to increase the frequency of Women's Health from bi-monthly to 10 issues a year, demonstrating the phenomenal success of the title. It is also increasing the frequency of Cosmo Body to three issues a year.
Hearst Magazines UK publishes 20 magazines and more than 20 websites, including world famous brands such as Harper's Bazaar, ELLE, Esquire, Good Housekeeping and Cosmopolitan. It also publishes 14 mobile sites and, to date, more than 150 applications and digital editions for the iPad, iPhone and iPod Touch, as well as the Android platform. It is the largest digital publisher in the UK and its impressive reach in print and digital extends to 1 in 4 UK women and 1 in 6 UK adults.