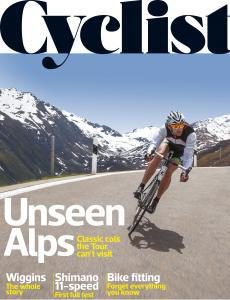 In the week that Bradley Wiggins won the Tour de France, Dennis Publishing announces the launch of Cyclist, a premium monthly, road cycling magazine in print and enhanced iPad app forma
The first print and digital issues of Cyclist will go on sale on Wednesday 19th September 2012, priced at £5.
Dennis's research has shown that in addition to the huge growth in cycling (British Cycling membership doubled in the last two years to 50,000) there has been a change in attitudes especially in the road cycling sector. The modern road cycling enthusiast has a passion for travel, knowledge, ride performance and style. Current cycling media does not cater for this type of reader and this is something Cyclist will do in a unique way.
The Editor of Cyclist is Pete Muir. Muir edited Men's Fitness for eight years, during which time the ABC rose by 36% to almost 70,000. In 2010 he was made Editorial Director of Dennis's Fitness Division and has been nominated as Editor of the Year at the BSME (British Society of Magazine Editors). Muir is a passionate road cyclist, having ridden Mont Ventoux and an Etape du Tour for Men's Fitness, and can be found most weekends riding up and down the road climbs of North London.
Muir has recruited a talented editorial team that includes Deputy Editor Stu Bowers, one of the UK's most respected tech writers and bike testers, who joins from Cycling Weekly. As part of the development process the project has been aided by John Stevenson, formerly Editor-in-Chief across Future Publishing's cycling portfolio, and Ash Gibson, former Creative Director of GQ and Men's Health.
Muir says, "The look and feel of the magazine will be premium with stylish design and stunning imagery from the best photographers in the market. The magazine will be like a cyclist's perfect partner: intelligent, good-looking and passionate about road cycling."
Publishing Director James Burnay adds, "The cycling market is the perfect next step for our growing fitness portfolio. Dennis has a history of producing excellent editorial brands and we are a leading UK publisher in digital formats. Cyclist will be launching with a 50,000 print run and we have already secured listings in all of the major retailers including the iTunes store. With Dennis's half a million subscribers in the target demographic, we are confident we can build a high quality audience for our advertisers, very quickly indeed."
The launch of Cyclist will be supported by a significant marketing campaign, valued at over £500,000. This will include multi-platform support across the portfolio, targeted advertising and sampling opportunities, and significant promotion at key retail outlets.
Website: Dennis