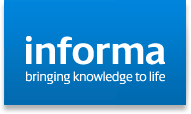 Press release: Informa PLC ("Informa" or the "Company"), the international B2B Exhibitions, Events, Business Intelligence and Academic Publishing Group, today announced that its Offer for UBM plc ("UBM") has been approved by both UBM and Informa shareholders.

The resolution to approve the Offer (the "Resolution") was passed at the Company's General Meeting held at 10.30 a.m. today.
As described in the Company's Offer Update on 10 April 2018, engagement with the Competition and Markets Authority in the UK is ongoing, and completion remains subject to the satisfaction or waiver of the Conditions set out in the Scheme Document. Informa and UBM remain confident that the Offer will complete by the end of the second quarter of 2018.
Stephen A. Carter, Group Chief Executive, said: "We are encouraged by the strong support from shareholders of both companies for this combination, which will create a leading, international B2B Information Services Group."