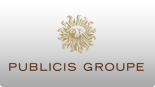 When things aren't working out, it's better to skip the wedding than get a divorce, Publicis Chairman and CEO Maurice Levy said Friday, less than 24 hours after Publicis and Omnicom said their planned $35 billion "merger of equals" wouldn't happen after all.
"The fact that we are not realizing a dream doesn't mean that we have no dream," Mr. Levy said. "But it's much better to not go to the church rather than going to the judge. So we are divorcing before getting married."
Here's a few highlights from Mr. Levy's call with analysts.
For the full story read Ad Age