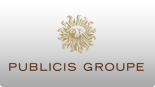 Publicis Groupe announced today the acquisition of South African media agency Applied Media Logic (AML), which will be aligned with the global media network ZenithOptimedia.
Based in Johannesburg, AML was launched in 2002 and has a staff of 35 media professionals including digital specialists, strategists and media investment advisors. AML is a top 10 media agency in South Africa, and the agency's blue chip clients include: L'Oréal, Reckitt Benckiser, FutureLife, Frank.net, House of Mandela, Fedhealth and Nashua. In 2009, AML was recognized by Finweek's AdReview as the Media Agency of the Year in its category.
Following the acquisition, the agency will be branded ZenithOptimedia SouthAfrica. AML's current Managing Director Kim Weissensee will lead the company as CEO of ZenithOptimedia South Africa.
For the full press release click Publicis